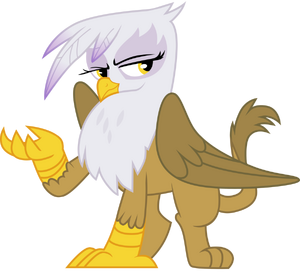 Gilda the Griffon is a minor antagonist in My Little Pony: Friendship is Magic and appears as a playable character in My Little Pony: Celestial Force.
Biography
Edit
Gilda is a griffon and former friend of Rainbow Dash, who is featured as an antagonist in the episode Griffon the Brush Off and the chapter book Twilight Sparkle and the Crystal Heart Spell. She is the first griffon to appear in the series, followed later by Gustave le Grand. She is the main antagonist of the episode, but a minor antagonist in the series. She also "sings" the Junior Speedsters Chant with Rainbow Dash in that episode.
Attributes
Edit
TBA
Neutral:
Forward:
Up:
Down:
Dash Attack:
Forward Smash:
Up Smash:
Down Smash:
Air:
Forward Air:
Back Air:
Up Air
Down Air:
Grab Pummel:
Forward Throw:
Back Throw:
Up Throw:
Down Throw:
Floor (Back):
Floor (Front):
Floor (Trip):
Edge (<100%):
Edge (100%+):
Neutral Special:
Side Special:
Up Special:
Down Special:
Final Smash:
TBA
On-Screen Appearance
Edit
TBA
TBA
Victory Theme
Edit
TBA
Victory Poses
Edit
TBA
Event Matches
Edit
TBA
Role in Story Mode
Edit
TBA
TBA
TBA
Ad blocker interference detected!
Wikia is a free-to-use site that makes money from advertising. We have a modified experience for viewers using ad blockers

Wikia is not accessible if you've made further modifications. Remove the custom ad blocker rule(s) and the page will load as expected.