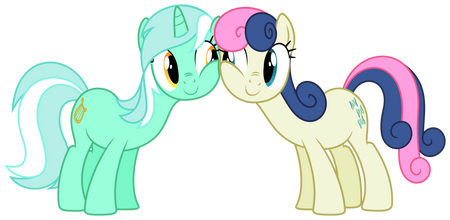 Lyra and Bon Bon are characters in My Little Pony: Friendship is Magic and appears as a playable character in My Little Pony: Celestial Force.
Biography
Edit
TBA
Attributes
Edit
TBA
Neutral:
Forward:
Up:
Down:
Dash Attack:
Forward Smash:
Up Smash:
Down Smash:
Air:
Forward Air:
Back Air:
Up Air
Down Air:
Grab Pummel:
Forward Throw:
Back Throw:
Up Throw:
Down Throw:
Floor (Back):
Floor (Front):
Floor (Trip):
Edge (<100%):
Edge (100%+):
Neutral Special:
Side Special:
Up Special:
Down Special:
Final Smash:
TBA
On-Screen Appearance
Edit
TBA
TBA
Victory Theme
Edit
TBA
Victory Poses
Edit
TBA
Event Matches
Edit
TBA
Role in Story Mode
Edit
TBA
TBA
Ad blocker interference detected!
Wikia is a free-to-use site that makes money from advertising. We have a modified experience for viewers using ad blockers

Wikia is not accessible if you've made further modifications. Remove the custom ad blocker rule(s) and the page will load as expected.