Phoenix Wright is a defense attorney from the Ace Attorney games who has prevented many innocent lives from being thrown into jail. He has starred on a number of popular games on the Nintendo DS even including a game where he crosses over with Professor Layton .
Character Description
Edit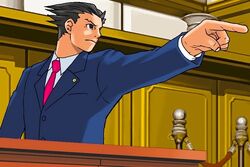 TBA
In Super Smash Bros IV
Edit
TBA
Attributes
Edit
TBA
TBA
TBA
On-Screen Appearance
Edit
TBA
TBA
Victory Poses
Edit
TBA
Event Matches
Edit
Phoenix Wright needs to find evidence. Fight off Bowser to get the evidence and convict him in Court
Role int Story Mode
Edit
TBA
TBA
TBA
Ad blocker interference detected!
Wikia is a free-to-use site that makes money from advertising. We have a modified experience for viewers using ad blockers

Wikia is not accessible if you've made further modifications. Remove the custom ad blocker rule(s) and the page will load as expected.